Coolearth brings sustainable architecture to life
Our team of architects in Toronto, Ontario designs homes, offices, and spaces that are bright, modern, environmentally sound, comfortable, and durable. We use the latest research, in-house energy modelling, and industry experience to deliver lasting value to our clients.
Retail Interior Design
Understanding and articulating interior aspirations in order to bring designs to life on an achievable budget and schedule.
Adaptive Reuse
Coolearth offers comprehensive architectural and consultancy services to help municipalities and townships understand their needs, develop a plan, and implement their space needs.
Advocate Architect
Acting as an advocate for clients on design-build projects, or providing advice and support in litigation involving design and construction issues.
Rural and Urban Infill
Converting obsolete or underutilized structures and sites into productive, integrated and prosperous buildings.
Comfortable
bright, spacious
Efficient
intuitive, elegant
Sustainable
passive, net-zero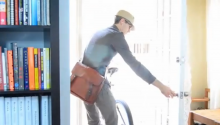 As part of Architecture Week in the USA, we participated in a Crowd-sourced video initiated by Enoch Sears in which 50 architects from 12 countries […]Read More